This is my latest finished cross stitch. I stitched it for my sister who is going through a difficult patch. I have made it into a coaster for her.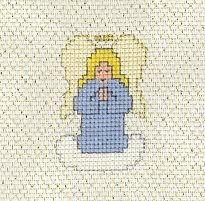 It is stitched onto gold fleck fabric which has a lovely sparkle although this doesn't show up in the scan. The halo and the edges of the wings are stitched with PB03 gold Petite Treasure Braid and the cloud is edged with silver Cristallina thread; again the effect doesn't really show in the scan.
A Favourite Quote:
"Good Morning is a contradiction in terms"