This is my progress on the Kustom Krafts "Baby Lion" as of 19th March, when I packed it away to rotate to my next project.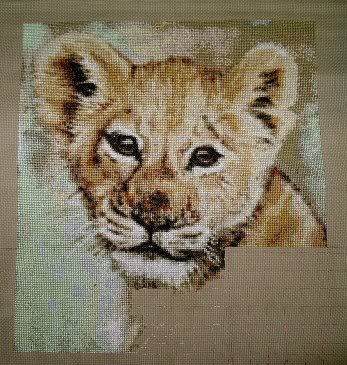 I rotated to HAED "Tomboy" yesterday evening. I am on an easy patch and after all the isolated stitches with the "Baby Lion" it was a welcome relief.
The one thing I didn't enjoy with "Tomboy" yesterday was stitching with the Kreinik thread. This design seems to use a lot of it so I have decided to use PB10 Petite Treasure Braid instead. I will have to re-do some but it should be easier to stitch with and I think it will look better.
A Favourite Quote:
"If I stitch fast does it count as an aerobic exercise?"