I managed to finish page two of HAED - Tomboy at the weekend: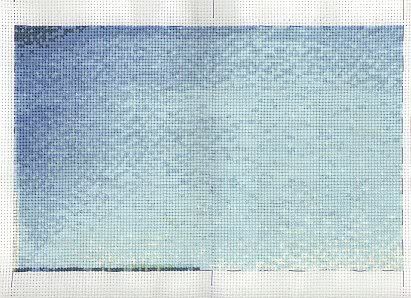 I also managed to finish the Lizzie*Kate 'Hello Spring' freebie for myself and turned it into a coaster (part of #62 on my 101 in 1001 list):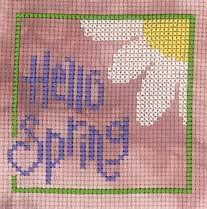 I stitched it onto some hand-dyed aida and changed the colour of the petals to make it a daisy (my favourite flower). It was charted as orange which would have clashed with my fabric. I am really pleased with how it turned out.
I have got to book five 'High Five' of the Janet Evanovich Stephanie Plum series and are still enjoying them.
I spent ages this evening trying to get a countdown timer to work on my
101 Tasks in 1001 Days
post but have given up and put it in my sidebar. It is Javascript and I think they don't work on the main blog page, as it works fine in the sidebar.
I am now going to do a bit of stitching before watching an episode of Star Trek Enterprise with Richard. My current stitching project is a 'Pinn' kit of a Japanese lady reading a book.
A Favourite Quote:
"Never think that you're not good enough yourself.
A man should never think that.
People will take you very much at your own reckoning."
Anthony Trollope